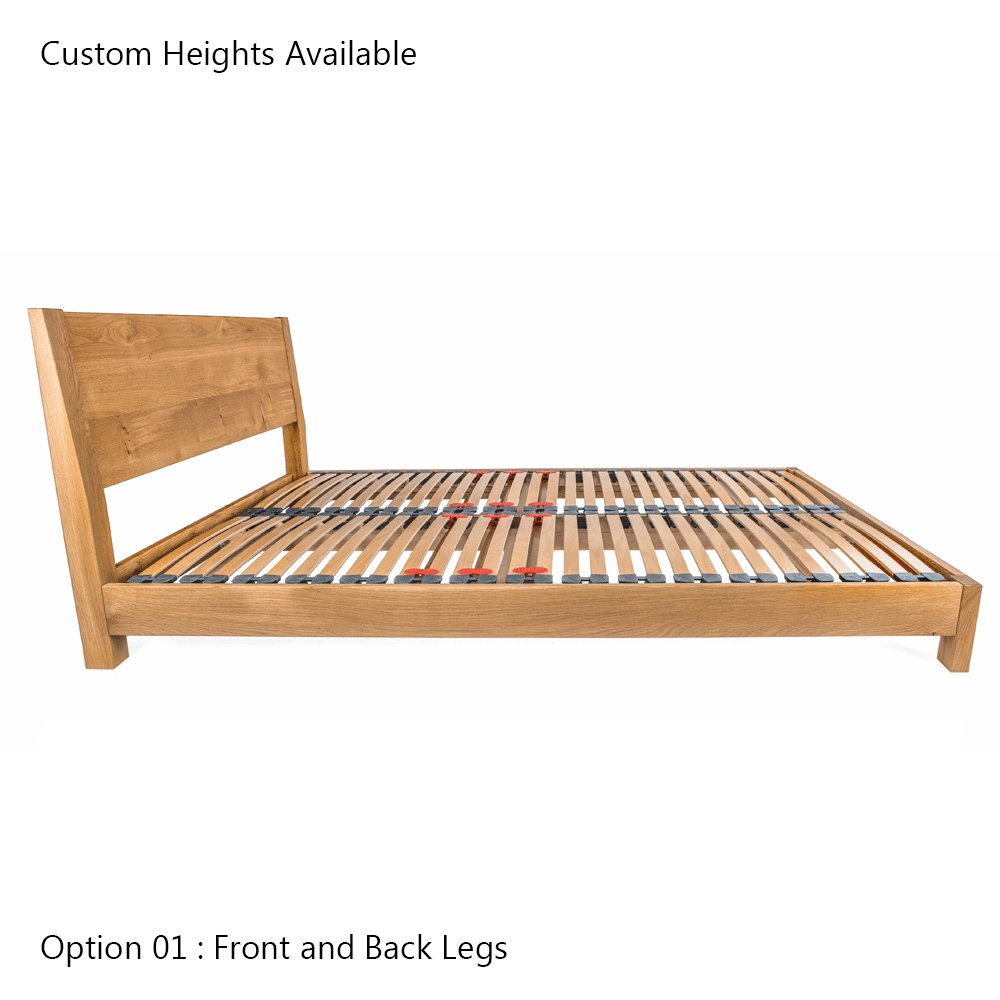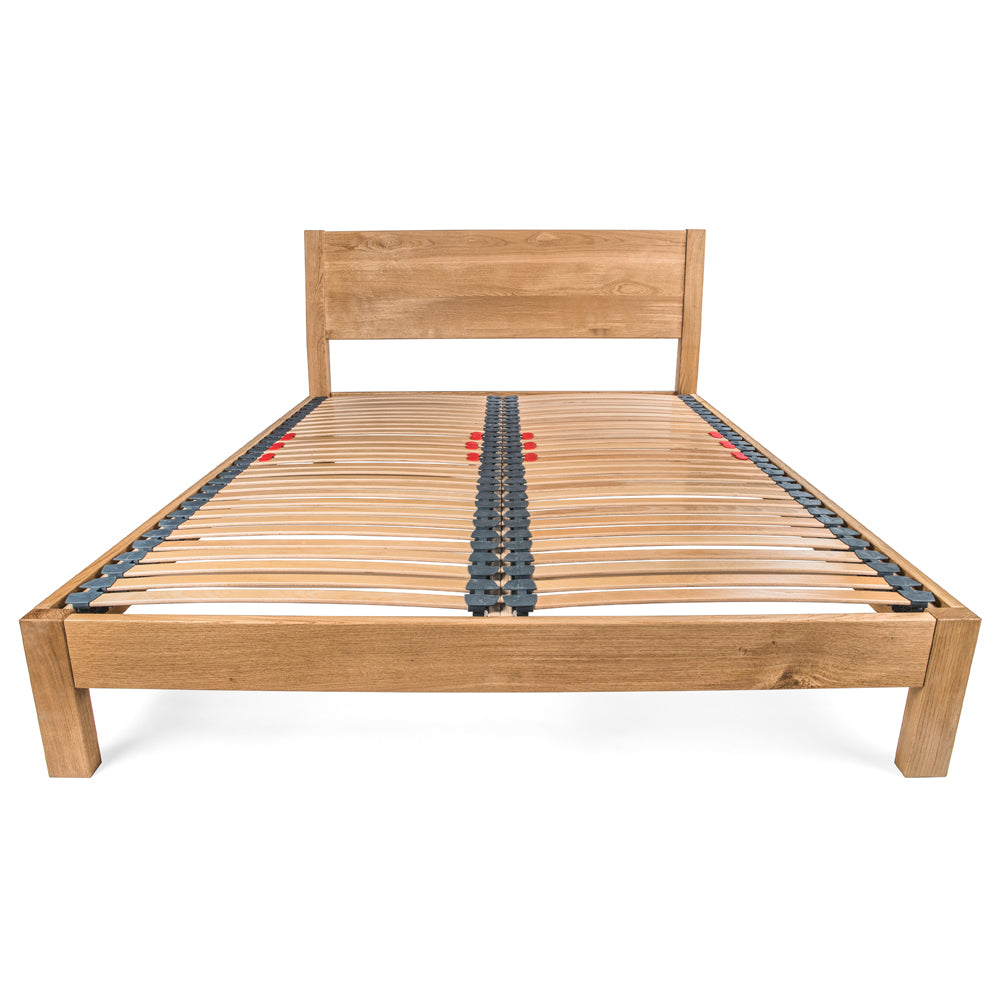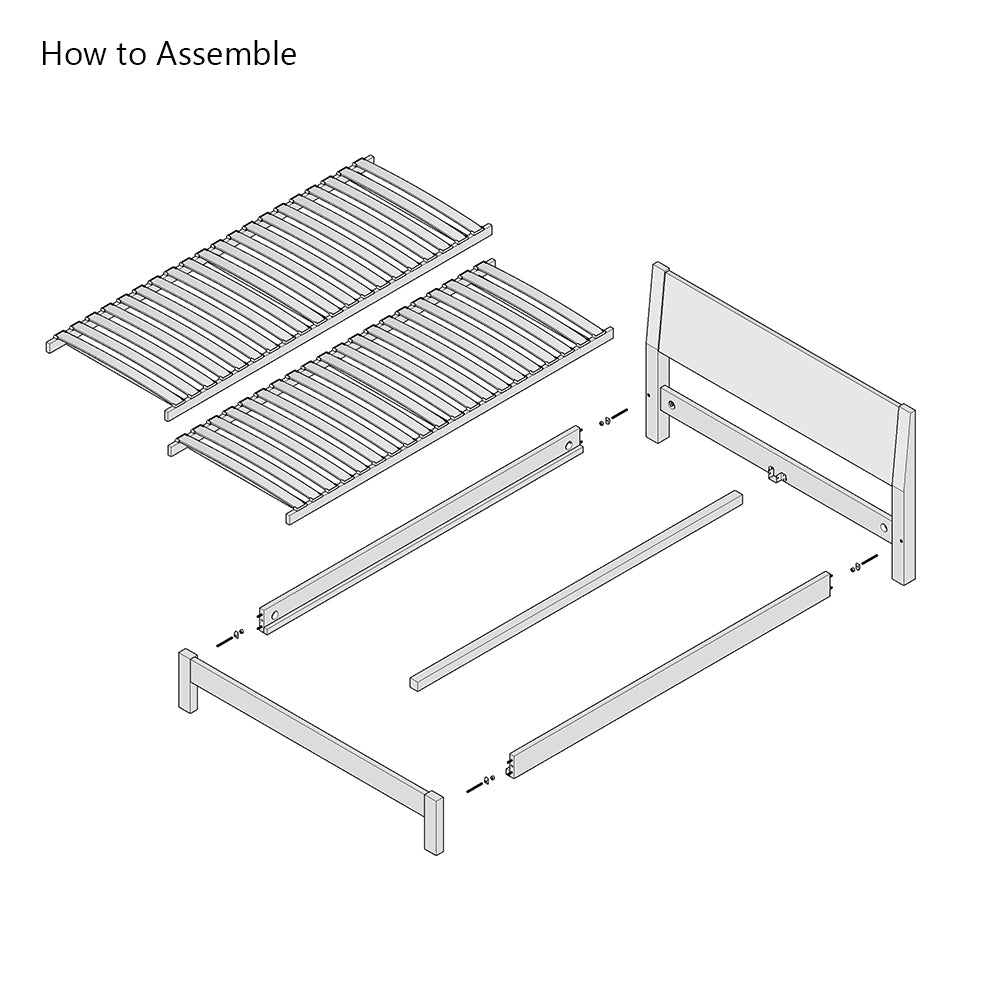 Hamsterley UK Double 4ft 6 Solid Oak Bed Frame with integrated Angled Headboard
From £1,230.00
Made-to-Order Bed Frames

Any Size & Various Customisation Options

Direct from our London Joinery Workshop
Solid European Oak from Sustainable Managed Forests

Ideal for Standard and Zip & Link Beds

FREE Delivery Nationwide

Quality Assured

Sustainable Product
Ask a question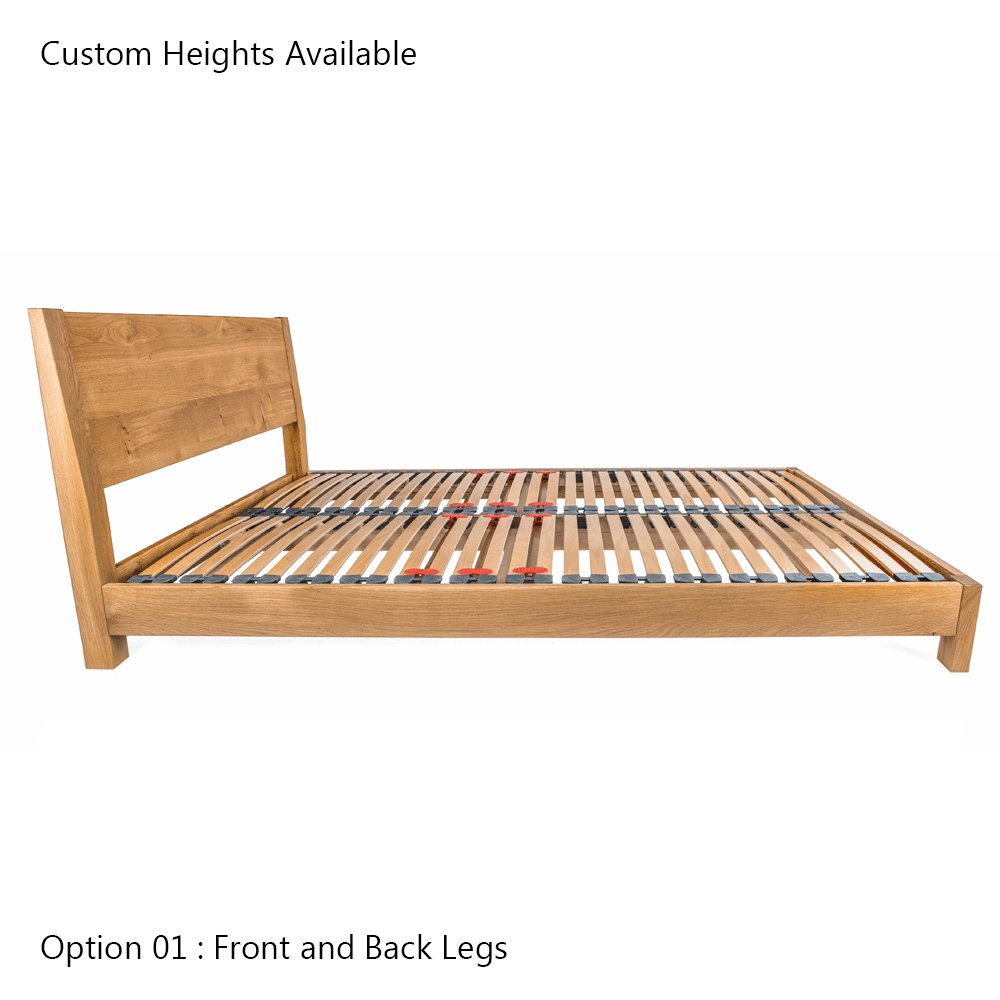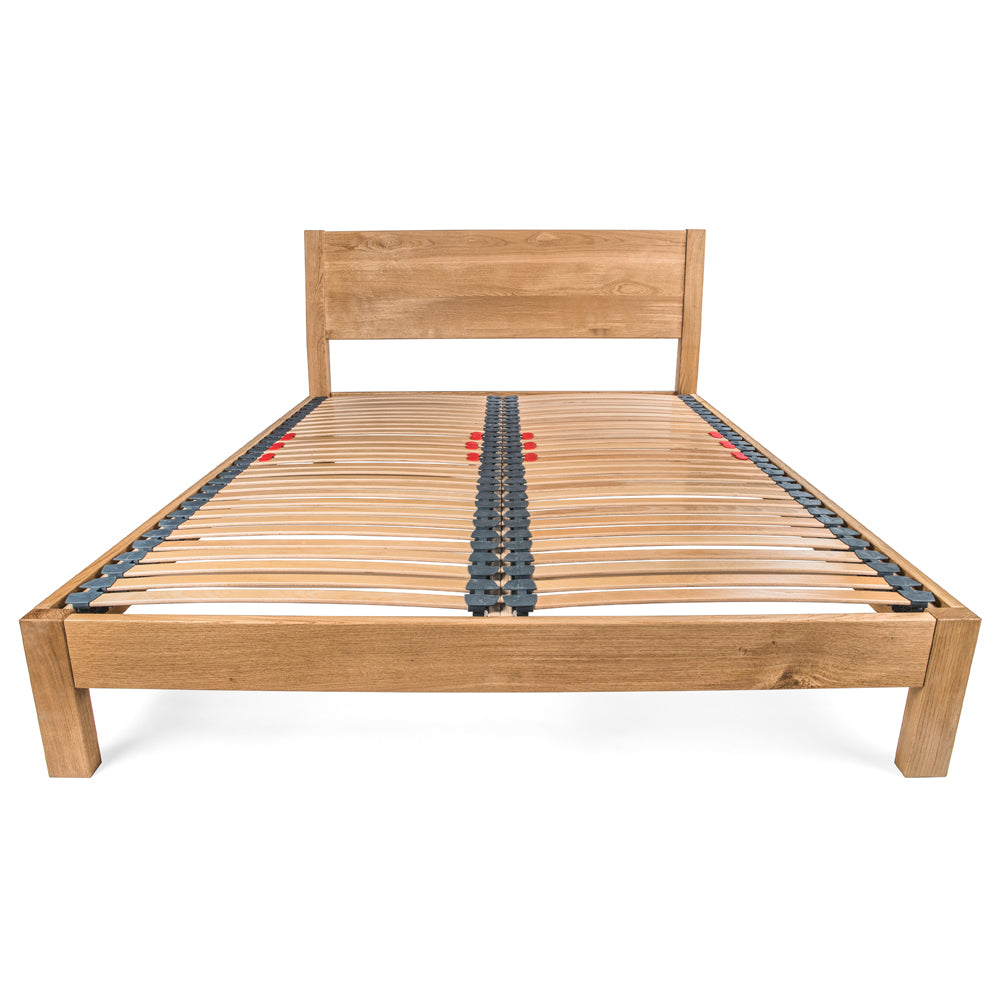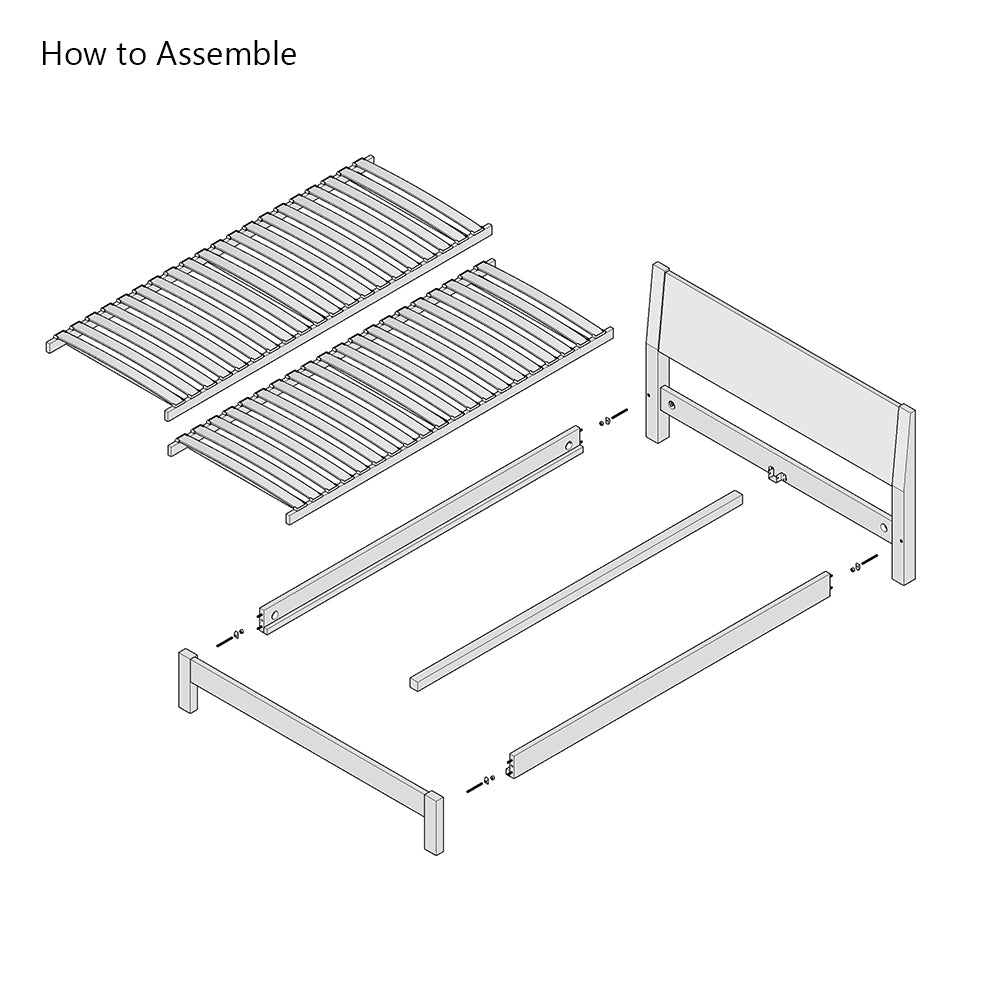 The Hamsterley Double 4ft 6 Low Platform Solid Oak Bed Frame
The Hamsterley Bed is one of our bestselling designs. Understated but with a definite character of its own, features include:
An elegant design, simplistic yet bold, that will create a strong focal point in any bedroom
Rectangular solid oak legs aren't just stylish, but ensure the bed is extremely sturdy
The mattress sits flush with the top of the compact frame, giving it a rather contemporary look
Plenty of storage space underneath the bed frame
Ideal for use in your main bedroom or as a day bed or guest bed
Bed Slat Solutions
We offer various bed slat solutions with our Oak bed frames. Choosing the right bed base for your mattress will change the feel of your mattress and can increase the life of your mattress.
Measurement and Dimensions
Our UK Double 4ft 6 Size Hamsterley
Overall width of the frame - 1350mm
Overall Length of the frame - 1972mm
Height from Floor to top of the Bed Frame - 290mm
Height from Floor to top of the Bed Frame - 290mm
Under Bed Clearance - 170mm
Height of Side Rails - 120mm
Height from Floor to top of Headboard - 900mm
Suitable for Standard UK Double Size Mattress - 1350mm x 1900mm
Custom Options
All our bed frames are manufactured to order. We are able to customise our beds to your exact requirements. 
Origin / Manufacturer
Designed and Manufactured in-house in London, UK
Assembly
All of our bed frames are self-assembly
The headboard and foot board will generally be fully assembled when delivered
The Slatted Bed Base will also be fully assembled. In either one part or two parts; dependent if you have purchased a double row or single row bed base. All our Slatted bed bases can be dis-assembled and re-assembled if access into the bed room is restricted.
Each Oak Bed Frame is Hand-Crafted to order in our London Joinery Workshop to your Exact Specification
We can customise all aspects of your bed frame in the Manufacturing Process. We have teamed up with our Sister Company "The Bed Slatted Workshop" to provide you with most latest technologies in Bed Slat Industry. Buy Direct from the Manufacturer
Direct from the Bed Makers

We Design and Manufacture for all our bed frames In-house in the UK

Sustainable Manufacturing

All our OAK and Bed Slats is sourced from Sustainable Managed Forests thougthout Europe

Direct is Best

Reduce the Supply Chain and buy direct from the Bed Makers. Get exactly what you want at a reduced Price

Advance Bed Slat Solutions

We manufacture advance bed slats Solutions. We have worked with Bed Slats Industry before manufacturing Bed Frames

Customise the HEIGHT

We can customise the Height of your Bed Frame. Ideal for getting in and out of beds or Storage Purposes

Customise the WIDTH

We can customise the Width of all our Bed Frames

Customise the LENGTH

The Length of our Bed Frames can be Customised. 1900mm, 2000mm or Custom

Reinforce your Bed

We can REINFORCE your bed frame by using many advance manuufacturing Techniques

Flat Packed

Our Bed Frames are Flat Packed. Ideal for access issues, de-mantling and re-assembling.

NEVER use Finger Joints

We NEVER use Finger Joints on our bed frame,

NEVER use Block Boards

We never use Block Boards on our Beds.

NEVER use Oak Veneer

Rest assure, we never use Oak Veneer on our Bed Frames

Recess your Mattress into the bed frame

Woudl you like your mattress to fit within your bed frame? Email us

Need your Bed Quick? We offer an Expresss Manufacturing Service

We can offer an Express Manufacturing Serivce, our team will generally work out of Standard working hours to Complete your Project.

Ergonomic

Our Slatted Bed Bases will Flex to the shape of your Body.

Airflow

Our Slatted Bed Bases allow Air Circulation around your Mattress.