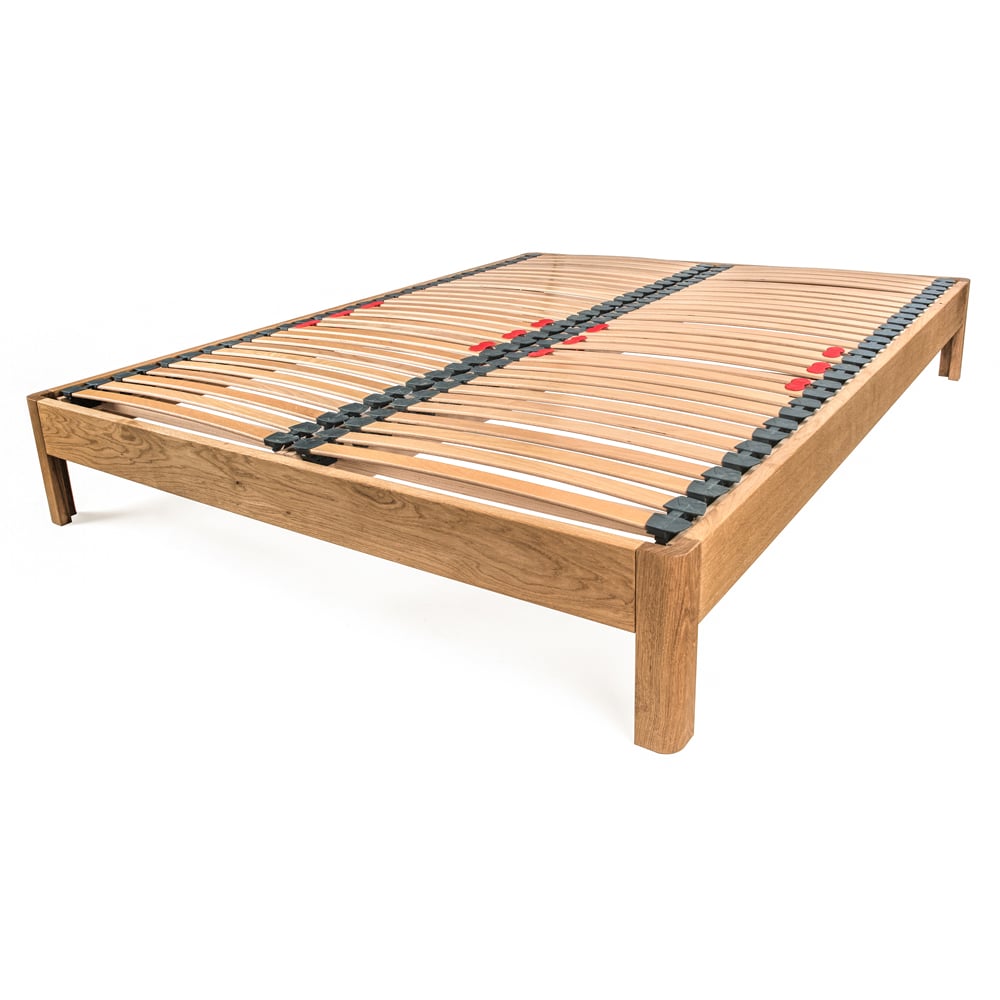 Why we offer different bed slat solutions with our Oak bed frames
The bed slats may not be the first thing that comes to mind when selecting a new bed frame, but they are a crucial component that can make all the difference to your sleeping experience. Unfortunately, many bed manufacturers cut corners and use cheaper bed slat solutions to save costs; including using low-quality materials, reducing the number of slats used, and choosing inferior types of bed slats holders. But at The Oak Bed Workshop, we believe that the bed slats are the most important part of the bed frame, and that's why we offer a range of bed slat solutions with all our oak bed frames.

You can think of your bed as a house, and the foundation as your bed base. Just like you wouldn't want to build a house on a weak or poorly constructed foundation, you don't want to put a quality mattress on a poor-quality bed base that will not support it adequately.

The bed base, including the bed slats, is the foundation of your bed, and it's responsible for providing the necessary support to keep your mattress in good condition for years to come. A good quality bed base with high-quality bed slats ensures that the weight of your body is evenly distributed, preventing sagging and damage to your mattress. It also provides proper ventilation, preventing the build-up of moisture and mold, which can damage your mattress and compromise your sleep environment.

Just like building a house, investing in a good quality foundation, including bed slats, ensures that your bed is built to last. A well-supported mattress will also have a longer lifespan, saving you money in the long run.

We don't believe in taking shortcuts when it comes to manufacturing. That's why we offer a range of bed slat solutions to suit different requirements and budgets. We understand that everyone's needs are different, and that's why we offer a choice of bed slats, including solid slats, and sprung slats. We also offer different sizes, spacing between the slats, and various technologies in our bed slat holders; So you can choose the solution that is right for you.

As a manufacturer to customer business, we have noticed that end-users are becoming more aware of the importance of bed slats and are willing to pay more for a better bed base. When you divide the additional cost by two (for two sleepers) and consider the number of years the bed frame will last, it's an obvious choice investment in a better sleeping experience.

We know that buying a new bed is an investment, and we want to ensure that you get the most out of your investment. By offering a range of bed slat solutions with our oak bed frames, we can provide a personalised sleeping experience for our customers. We are committed to quality and craftsmanship, and our oak bed frames are designed to provide the best possible support and comfort for your mattress.

In conclusion, choosing the right bed slats is essential for a good night's sleep and the longevity of your mattress. By selecting one of our oak bed frames with a suitable bed slat solution, you can ensure a comfortable and supportive sleeping experience. We believe in providing our customers with choice and quality, and that's why we offer a range of bed slat solutions to suit different requirements and budgets. Don't settle for a subpar sleeping experience – choose one of our oak bed frames with the perfect bed slat solution for you.